ULTIMATE FOOTBALL OFF-SEASON DEVELOPMENT PROGRAM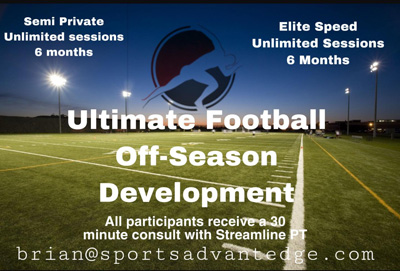 Sports Advantedge is excited to offer this incredible opportunity to our football athletes. No one has trained more prominent high profile football players in our area than Coach Bott and the Sports Advantedge Staff! We are also partnering with Streamline PT for a personalized consult with our Physical Therapy group!
We realize that Summer Conditioning is essential to the success of any football player and team. But we also understand athletes need to ENTER the summer at their best. They can't use the first two weeks to "GET BACK INTO IT" They must hit the ground running day 1. We also understand coaches need every minute of the summer to get the MOST out of their players. This 6-month college style OFF-SEASON program will give EVERY FOOTBALL player EVERYTHING they PERSONALLY need to be ready!
What does the Program Entail?
Here is the best/ most unique part of this program. The programs are built for the needs of the INDIVIDUAL athlete. Some athletes need a full compliment of strength training as well as speed and athletic enhancement. We have that built in with our Semi-Private Individualized Training option. Click on the link to read more in depth about this program
Sports Advantedge SEMI-PRIVATE INDIVIDUALIZED TRAINING
COST $999 FOR 6 MONTHS OF UNLIMITED SESSIONS
We also understand and support many schools have strength programs and we support all schools and coaches and their programs. HOWEVER, many school either don't have the space or time to run a full speed enhancement / athletic development program to compliment their strength work. Or, many athletes are looking for MORE. This is where ELITE SPEED comes in. The results of our ELITE SPEED program have been incredible from combine performances, to 5 plus increases in vertical jumps in an 8-week period, to 40 times significantly dropping. This program is a GAME CHANGER! Click on the link for more information on Elite Speed
Sports Adantedge Elite Speed Training Program
COST $699 FOR 6 MONTHD OF UNLIMITED SESSIONS
Finally, the piece that separates this program from ALL others. The football season is long. Some of our athletes may have played up to 14 games. We have partnered with Streamline PT to offer all the participants a 30-minute 1 on 1 evaluation. This is essential in the development of our programs that address deficiencies and movement imbalances.
Physical Therapy | Streamline Physical Therapy, LLC | United States
HOW DO I SIGN UP?
---
Click on your location below to login to your MindBodyOnline.com account.
QUESTIONS?
---