COACH Cameron Bott
My name is Cameron Bott, and I am from Madison, Wisconsin. I grew up playing football, baseball, and basketball, but transitioned to just football once I got to high school. I went to Madison Memorial High School, where I played varsity football for two years, and was a captain of the team my junior year. I also received first team all-conference honors my senior year, as well as many other all city awards.

I went to college at Ripon College in Ripon, Wisconsin. I played football for all four years I was in college and started from my sophomore year on, while getting significant playing time my freshman year as well. My senior year I received first team all-conference honors and helped our team to our best record in school history as well as our first conference championship in 20 plus years. My senior year at Ripon I was also the president of the Phi Kappa Pi fraternity. I graduated from Ripon with a major in Human Performance, and a minor in Coaching.

After I graduated, I interned at Sports AdvantEdge in the 2023 summer. Having trained at Sports AdvantEdge since it was first opened, the coaching I received while there is what led me to the athletic accomplishments that I had in my playing career. Now that I have left my athletic playing career behind, I would like to be one of the people who is helping the younger generation of athletes to achieve their goals in sports..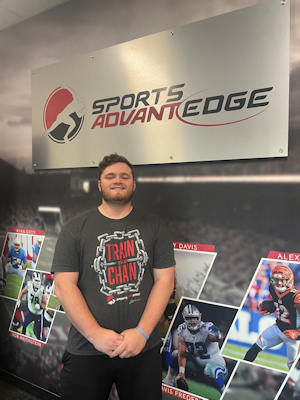 Coach Cameron Bott