COACH DAKOTA WALTERS
My name is Dakota Walters, and I am from Brodhead, Wisconsin. I grew up in a small farming community 40 minutes south of Madison. I attended Brodhead High School from 2011-2015, where I was a multi-sport athlete. I played football, baseball, and golf. I was an offensive lineman/tight end for football, catcher and right fielder for baseball, and I was the number 2 golfer on the varsity team.

Upon graduating from high school, I chose to go to University of Wisconsin - Platteville, where I initially wanted to major in Mechanical Engineering. I soon realized math was not my strong suit, so I switched my major to something that I did everyday, Health and Human Performance. I then focused solely on lifting weights and my school work. I was a football coach for Mt Horeb/Barneveld from 2019-2022.

I graduated from the University of Wisconsin - Platteville in Summer 2022, as I had to do an internship over the summer to complete my degree. I did my internship at Sports AdvantEdge at Madison Edgewood, and enjoyed every day of it. Knowing that I get to help kids either improve just a little or hit their PRs, I'm glad to be a part of this team to help the kids get better.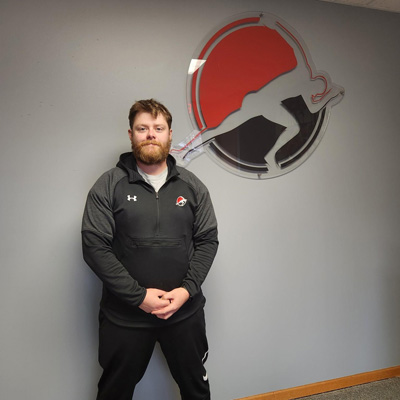 Coach Dakota Walters