COACH Sam LaValley
I grew up in a smaller town called Zion, which is near Gurnee Illinois. I graduated high school in the top 10% of my class and headed off to college with multiple scholarships. I attended Carroll University as a Psychology Pre- Physical Therapy major. In 2017, I graduated a year early with 90 hours shadowing a physical therapist. Deciding to take time to myself before graduate school, I started to workout. I lost 80lb's in a year and decided to get a part-time job as a personal trainer. In 2021 I completed a second degree in Food Science from Kansas State University. I quickly fell in love with fitness and have been personal training ever since.

After 8 years of training, I offer years of experience and knowledge of strength training including USA weightlifting- level 1, RRCA running coach- level 1, and Certified Strength and Conditioning Specialist.

I have always been a thrill seeker and enjoy doing anything that pushes me outside of my comfort zone. I enjoy doing anything that involves being outside: rock climbing, running, cycling, hiking, snowboarding, and skydiving.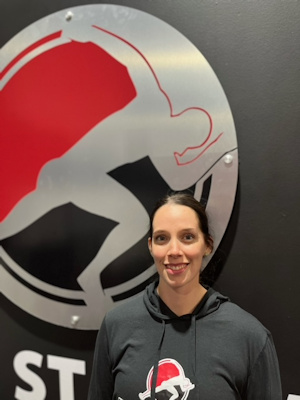 Coach Sam LaValley