COACH BRIAN BOTT
Brian Bott is the owner and day to day operational Manager of Sports AdvantEdge and Edge Baseball. He has been a performance coach for over 20 years. He has a Masters Degree in Exercise Science from the University of North Dakota and is C.S.C.S. Certified.

As an athlete Brian was a 4 year starter on the UW Oshkosh baseball team from 1993-1996- In that time the teams he played on won 1 National Championship and took 2nd, 3rd and 3rd in the other 3 years. Bott played every inning of every game all 4 years.

Bott was a strength and conditioning coach for two years at the University of North Dakota. There he worked with athletes of all sports.

Bott then moved to Madison to work with the Wisconsin Badger football team for 13 seasons as an assistant strength coach. He was a member of 3 Big Ten Championships and 3 Rose Bowl Appearances. In his 13 seasons the Badgers attended 12 bowl games.

Bott worked with many athletes who moved on to professional football. Those names include Joe Thomas, Travis Frederick, Russell Wilson, JJ Watt and so many more.

In 2013 Bott started Sports AdvantEdge LLC. The philosophy of Sports AdvantEdge is to give youth, high school, college and professional athletes THE BEST training in the Midwest. Since opening Sports AdvantEdge he has trained over 1,000 athletes ranging from age 8 - 61!

Sports AdvantEdge now provides 100's of athletes the chance to enhance their athletic ability!

Bott lives in Madison with his wife Cori, his three boys Cameron, Jaydon and Carson, Cori's 3 kids Hunter, Holden and Hailee, and their dog Chewie!!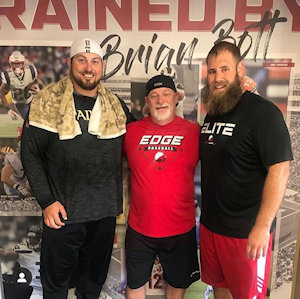 Coach Brian Bott