COACH Quintin Foerster
My name is Quintin Foerster and I am from Fort Atkinson, Wisconsin. I attended Fort Atkinson High School and graduated in 2017. During high school I participated in a variety of different sports, with soccer and track & field being my primary focus. In soccer, my positions were typically outside mid or forward, while in track and field I competed in sprints and long jump.

After high school, I attended the University of Wisconsin-Madison, where I received a degree in Kinesiology. In college, I had the opportunity to intern at a physical therapy clinic and with Sports AdvantEdge. Following graduation, I decided to continue with strength and conditioning and interned again with Sports AdvantEdge at the newly opened Oconomowoc gym. Since then, I have completed my internships and was brought on as a coach at the Oconomowoc location.

My time as a student athlete and college internships have helped me realize my passion for strength and conditioning. I can express my passion through my job as a coach by helping athletes reach their full potential.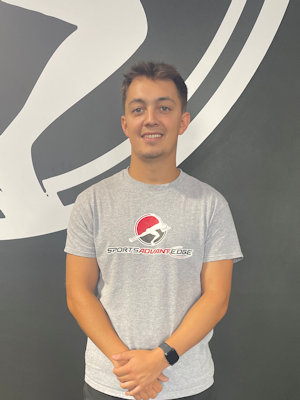 Coach Quintin Foerster