COACH Leland Weingart
My name is Leland Weingart and I grew up in Burlington, WI. I attended Shoreland Lutheran High School in Somers, WI from 2014–2018, where I was a multi–sport athlete. I played football and baseball, earning all-conference honors my junior and senior year of high school football as all-purpose on offense (quarterback, wide receiver, running back). In baseball I was a relief pitcher as well as a center fielder.

Upon graduation from high school, I went to the University of Wisconsin-Madison and received a degree in Kinesiology with a certificate in Athletic Healthcare. I started working with Sports AdvantEdge in 2021 as an intern at Edgewood High School. After 2 semesters there I had the opportunity to run the strength and conditioning program at Mauston High School in Mauston, WI the summer of 2022. I then transitioned to a coach at our Waunakee location and coached there from January 2023-August 2023. I currently work with both Wisconsin Dells High school and Middleton High School through Sports AdvantEdge.

Strength and Conditioning has always been a huge part of my life since high school. I was first introduced to Sports AdvantEdge in 2019 when I was looking to still train like an athlete and started training at the Verona location. I have a passion for helping others achieve their fitness/athletic goals as it is truly rewarding for myself and is a great opportunity for me to give back to the community. I believe that there is a lot more to training than just getting faster and stronger. Training is a great way to build strong character which athletes can use for life outside of the playing field.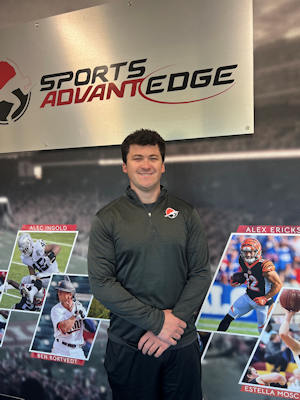 Coach Leland Weingart