COACH Shauna Drew
My name is Shauna Drew, and I grew up in Burlington, WI. I attended Burlington High School where I played softball and ran track and cross country. Growing up, I also played several years of basketball and volleyball.

After graduating, I attended the University of Michigan for a semester and studied sport management while participating in their Sport Business Association. I was also a member of the Undergraduate Research Opportunity Program, where I assisted in research concerning the expense and revenue streams of public universities' athletic departments; this research is now included in the Library of Congress. While at Michigan, I was able to hear Ben Herbert, Director of Strength and Conditioning for the football program, speak at an event. This began my love of utilizing strength training as a means of improving athletic performance. I had spent much of my own athletic career in a weight room, and even when my time as an athlete ended, my love for strength training remained. However, this was the first time it became a true career path for me.

I ended up transferring to the University of Wisconsin - La Crosse for the remainder of my freshman year and all of my sophomore year. Ultimately, I transferred to the University of Wisconsin - Madison for my junior year and found a home with the Wisconsin Football strength and conditioning staff. I began as the program's sole intern during the 2020 season and saw a shift to head intern and finally student assistant. Over my time with Wisconsin, I have been fortunate to hold responsibilities involving all aspects of athletic performance at this level and have therefore been afforded unparalleled opportunities to develop as a coach. While with Wisconsin, I also assisted with NFL-funded studies concerning head impacts and hamstring strain injuries.

I graduated from UW-Madison in December of 2022 with a degree in kinesiology and certificate in athletic healthcare. I am now extremely excited to step into my new role as strength and conditioning coach at Edgewood High School and with Sports Advantedge. The dedication of the students, coaches, and athletic department to improvement through strength training is apparent, and I believe that we will be able to take Edgewood Athletics to the next level. I am looking forward to working alongside the existing staff and creating relationships with the students as we develop both better athletes and better people.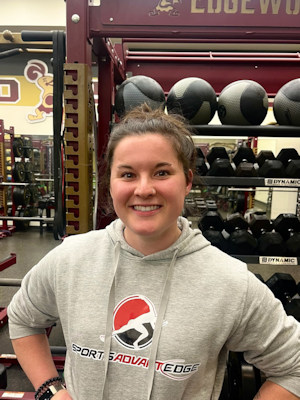 Coach Shauna Drew