Gabe Carimi
1st Round Pick 2011
Chicago Bears
2010 Outland trophy
winner
"Without the knowledge and passion of my strength trainer, Brian Bott, I would never have had the success or the accolades I received while playing for the Badgers. His passion and genuine enthusiasm for his work was visible everyday I trained with him."
Russell Wilson
3rd Round Pick 2012
Seattle Seahawks
1st Team All American
"Brian Bott helped me develop into the player I am today. At the University of Wisconsin, Brian trained me aerobically, anaerobically, and increased my flexibility. Brian introduced me to new exercises that I never utilized in the past which I truly believe helped me excel on the football field. I would recommend Brian Bott to any person male or female."
Carmelina Moscato
2012 Olympic Bronze Medalist
-Center Back with the Canadian Women's National Team
Chicago Red Stars
"Brian's knowledge base is extensive and he had a way of describing things which always showed his true passion for what he does. I can honestly say working with Brian has enhanced my workouts and made me a more functional athlete."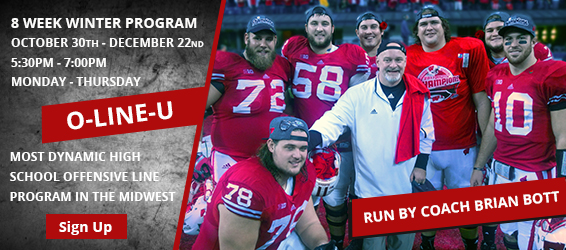 Winter 2017 Times- Oct. 30th - Dec. 22nd

Strength & Speed Sessions

Speed & Agility

TRAINING TIMES

MONDAY – THURSDAY


4:00PM
5:00PM
6:00PM
7:00PM



FRIDAY


4:00PM
5:00PM
6:00PM



SATURDAY


10:00AM


TRAINING TIMES

MONDAY – THURSDAY


4:00PM
5:00PM
6:00PM



FRIDAY


4:00PM
5:00PM

SATURDAY
9:00AM


O-LineU

Elite

8th Grade & Up

TRAINING TIMES

Monday Through Thursday


5:30 - 7:00

32 SESSIONS

CLASSES WILL FILL FAST!
ASK ABOUT TEAM GROUPINGS!!!




TRAINING TIMES

MONDAY THROUGH THURSDAY


4:30-6:00PM
OR
6:00 - 7:30PM

31 SESSIONS OUR MOST POPULAR PROGRAM

COLLEGE PREP RESULTS!!!

GREAT PRESEASON PREP PROGRAM FOR WINTER
Learn More >>
Learn More >>

Also Now Available
• Set your own schedule - Contact us for details
•Ask about 1 time a week options
•Ask about varying times your son or daughter can train
•We will fit our training style into your athlete's needs!
•Register online
•Get Specific training by choosing 1on 1 sessions




Call 608-513-6917 or 608-848-1820 to register by phone or fill out our Sign-Up form.
Brian Bott has been a part of my life for several years now, and has helped me in so many ways to achieve my goals.
As my strength coach at the University of Wisconsin, he helped me to learn proper lifting and running techniques to help me maximize my strength and speed. He also has a knack for modifying workouts to tailor them to individual or group needs.
His workouts helped our offensive line become the best we could be, and his leadership and wisdom helped keep us moving in the right direction. I can certainly say that without having the help of Coach Bott, I would not be in the same situation as I currently am...
Travis Frederick

Read More